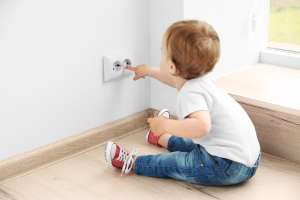 Keep your little mover safe by baby proofing your home!
Explore, explore and then explore some more!!!  This is your baby's thought process at this age.  Crawling has opened up a brand new world, and now EVERYTHING is interesting!  Unfortunately, included in "everything" are things that can be very dangerous for your baby.  If you haven't yet, it's time to baby proof your home!
Here are some general tips on how to baby proof your home to keep your baby safe and to keep yourself sane:
1. Remove anything that's less than one-inch square from any area that your baby plays.  Babies move very fast, and you might not be able to remove a dangerous object that's laying around before your baby finds it.
2. Create a safe play area for your baby.  It's next to impossible to have your eyes on your baby every second of the day.  Creating a safe play zone for your baby can give you the peace of mind that your baby is safe when you need to use the bathroom or cook dinner.
Examples include:  Interlocking fence play yards, Pack N' Plays (for short periods of time)
 3. Use the strap on the changing table as your baby will love to become very wiggly during diaper changes at this age!
 4.  Remove any hazards in your home that could possibly wrap around your baby's neck including, but not limited to strings, wires/chords to electronics, Christmas tree garland etc…
 5. Door stops – Your baby will discover the beauty of opening/closing doors and fingers can easily get pinched.
 6. Cabinet locks – Babies LOVE exploring kitchen cabinets and any other drawers/doors that they can find.  There are a variety of locking mechanisms for different kinds of cabinets.  Check with your favorite retailer to find the right ones for your home.
 7. Safety plugs on electrical outlets – You can also inspect the entire outlet system to ensure that the outlet's face plate is not cracked and is securely fastened.  
 8.  Baby gates – Baby gates can be another means of creating a "safe zone" play area if you feel a specific room is appropriate.  Baby gates can block off entry/exit ways to specific rooms and are also necessary for any stairs/steps in the home.
9. Furniture:
 Attach corner guards onto any pieces of furniture that come to a point (i.e. coffee tables, end tables, bottom side of tables etc…

Secure pieces of furniture to the walls – Babies LOVE to climb and pull on anything that's available, and sometimes these objects can topple over.  Examples include, but are not limited to:  TV's, book cases, display towers/cases etc… 

Clear the shelves of any furniture that your baby can reach.  This level will change depending as your baby learns to pull to standing and continues to grow.
You may consider removing objects that are on top of pieces of furniture now, including lamps, speakers, clocks etc…
10. Use gates or close the door of any room that's not completely baby proofed or has potential dangers (i.e. bathroom, older siblings' rooms that may have smaller toys).
These are general suggestions, but every home is unique.  Be proactive!  If you look around your home and find potential dangers well before your baby becomes mobile, your stress levels should be significantly less once your little one enters the exploration phase!
Download the Help My Baby Learn mobile app today to learn how to stimulate your baby's development!