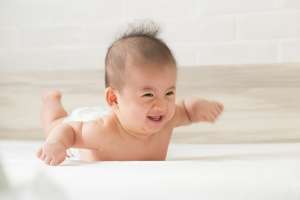 Developmental Impact of Reflux in Babies
This is a very personal topic for me.  As a pediatric physical therapist, I've worked with countless babies with reflux.  However, it became a very different situation when my wife and my baby began to experience severe reflux.  I gained a very different perspective.  
While managing the challenges and concerns that come with severe reflux, I gained first hand knowledge of not only the developmental challenges that come with reflux but also the opportunities that it presents.  Now that our baby is a toddler, I'm seeing the effects of how we took advantage of the opportunities that reflux presented. 
This reflux can dominate your baby's feeds and her daily routines…especially when she's only a few months old and sleeps frequently.  Your day revolves around pacing your baby's feeds, taking frequent burp breaks, post feeding positioning, and your baby napping.  As parents, we focus on helping our baby remain comfortable and nourished.  
Download the Help My Baby Learn mobile app today to learn how to stimulate your baby's development!
How Reflux effects a baby's developmental milestones:
Challenges:
Lack of Tummy Time:
With all of the challenges that come with reflux, parents often either don't have time, are afraid to cause their baby to spit-up or simply forget to give their baby tummy time.  Not having early opportunities for tummy time can cause a variety of  motor challenges for your baby.  
Tummy Time allows for:
Neck strengthening/head control

Weight shifting side to side (rolling)

Teaching muscles of their core to work together
Limited/No Tummy Time often causes:
Excessive arching (as does reflux itself)

Delays holding head steady when held at the shoulder

Delays with rolling

Delays with reaching

Delays with sitting

Delays with/may skip crawling

May stand on tip toes when learning to stand/walk

Can cause delayed babbling of consonant sounds
Advice:  As a pediatric physical therapist, it was SO HARD for me that my baby wasn't receiving the amount of tummy time that I felt a baby her age should have.  
However, a baby's basic needs come first, including sleep, medical and nutritional needs.  Take care of these needs first, and the opportunity for tummy time will eventually present itself.  

Once your baby has periods of time when she wakes up from a nap in a happy mood and isn't immediately hungry, you can try some tummy time.  At this point, your baby's last meal will be as digested as it can be, and your chances of causing a spit-up have decreased.  

As always, if you have ANY concerns regarding your baby's development, please contact your pediatrician and/or your local early intervention provider.
Opportunities:  That's right, there's actually a developmental positive when it comes with the challenges of reflux! 
Lots of Face-to-Face play:
Since your baby has to remain upright for 20-30 minutes after eating, you have a great opportunity to engage in face-to-face play with your baby!  
Face-to-face play is the foundation to social and language development for babies. Reflux positioning provides multiple opportunities throughout your daily routine to provide your baby with these opportunities. 
There are a variety of reflux positioning options including propping your baby in your lap or in an age appropriate chair.
Personal Note:
 I loved having our baby propped up in my lap while resting on my legs!  She was in a perfect position to establish eye contact, sing songs with hand gestures and read books to her.   
Exposure to early play activities/toys:
The post feed positioning also allows you to give your baby a great deal of exposure to age appropriate toys and textures.  You can see some of what parents can look for when choosing toys for their babies on HelpMyBabyLearn.com or on the Help My Baby Learn mobile app.
Personal Note:
For our baby, we helped her to touch a variety of different textures (soft, bumpy etc..), observe high contrast colors (black/white/red), crinkle toys and introduced her to rattles.  As her skills grew, the toys that we presented her with changed accordingly.  

When her positioning was performed in a chair, we made sure that there was always something stimulating for her to touch.  We clipped toys from her play gym to the side of the chair, used the toys that came with the chair or clipped crinkle texture books to the side of the chair.  This way, she could look at them and touch them (either purposefully or accidentally).   
Learn what toys are appropriate for your baby's age, download the Help My Baby Learn mobile app today!
What we see today:
When writing this article, our little one is 16 months old, and this is what we see.  Remember that all babies are different and the skill sets will vary.
First steps:  13 months.  Our baby took her first consecutive steps the day after she turned 13 months old.  If you're frustrated with when your baby will walk, remember that with a pediatric physical therapist parent working with her every day, it took until 13 months for her first steps.

Language development:  Her language development has been a little advanced for her age thus far (A result of all her face-to-face play early on and consistent language modeling throughout her daily routine)

Excellent understanding of what's said to her (receptive communication) and  imitation of gestures.  She picks up hand signs very quickly.  This is a result of all the face-to-face play and A LOT of singing of songs that involve hand gestures.

She LOVES books
Reflux is a very challenging experience for babies and their parents.  It's important for parents to be aware of the developmental effects that reflux can cause but also to take advantage of the opportunities that it allows.  The severity of your baby's reflux can influence how much developmental impact it has.  Always be in communication with your pediatrician regarding the options on how to minimize your baby's discomfort due to reflux and to monitor her development.