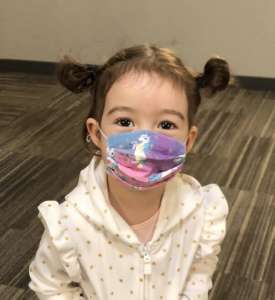 How to Teach Your Toddler to Wear A Mask
*At the time that this article is being written, the American Academy of Pediatrics does not recommend mask wearing for children under 24 months old.  
As the world continues to battle the COVID-19 pandemic, we adults understand the need to wear masks.  However toddlers don't understand why we're suddenly trying to put this thing on their face.  The first time we try to put it on, toddlers typically take the mask off immediately and can become very resistant the next time they see it.
This is incredibly frustrating, believe me, I know.  This is exactly what happened with our daughter when we introduced mask wearing to her.  I felt horrible wearing a mask in public when she was left unprotected.  I was on a mission to find a way to help her tolerate wearing a mask.  Thankfully, I found a model that worked.  Here it is:
Laying the foundation:
Wear your mask consistently and make it part of your routine whenever you're going out of your home.  The more your little one sees you wearing a mask, the less intimidating it will be.

Always tell her that you're putting your mask as this puts a name to it:  "Mommy's putting her mask on."

If you have older children, let your toddler see them putting their masks on.  Toddlers often love to imitate their sibling(s).

Purchase a mask that's appropriate in size for your toddler and if available, get a print that's motivating for her.  (i.e. we got a unicorn mask for our little one because she loves horses)
Download the Help My Baby Learn mobile app and start stimulating your baby's development now!
10 Easy Steps to Getting Your Toddler to Wear a Mask!
First, some basic principles:
Don't force it!  Forcing mask wearing on a toddler will only make her more resistant

This is a very gradual process.  The time that it takes depends on each child/family

Be consistent
Step 1:   Let your little one hold the mask and explore it.  
Step 2:  See if she tries to put it over her mouth or imitate you putting your mask on.  "Mommy puts her mask on.  Can you put your mask on?"  If she says "No," that's okay.  
Step 3:  Do this for a few days and see if she becomes a little more comfortable.
Step 4:  Try to place the mask gently over her mouth/nose (it doesn't have to be perfect) without worrying about the ear loops.  Do this for only a second or two.  DO NOT force it.  
You can keep it there if your little one tolerates it.  If she doesn't, take it off.

Do this right as you're putting your mask on:  "Ok, I'm putting Mommy's mask on.  Now Sally's mask is on!"
Step 5:  Once the mask is over her face step in front of a mirror so she can see the mask on her (again, it helps if you have a mask with a motivating print on it). Make sure to give her lots of praise and tell her how good the mask looks.
Step 6:  Let her pretend to put her mask on you.
Step 7:  What works during this next step will vary from family to family.  Here you'll try to put the mask on your little one properly, including the ear loops.  
You'll need to find something that's short in duration but VERY motivating for your little one to help distract her.  For example, our toddler loves to practice jumping.  I told her:  "Let's wear the mask for 5 jumps and then the mask is all done.  Ok?  5 jumps then all done with the mask."  Jumping 5 times is an activity that she already loved to do without wearing the mask.

Other examples of what might work is singing a favorite song, playing a song on your phone, reading a favorite book, playing ball for a certain amount of time… anything that your little one LOVES and can be quick.
Step 8:  Now we're going to try to get outside with the mask on! Set a specific destination that is motivating.  You'll want a destination that your little one understands and that's very close.  The hope is that she'll wear the mask until you get to that point, and then she'll take the mask off.  For my daughter it was walking to the elevator of our apartment building.  I told her: "Let's wear the mask to the elevator, and then we can take it off."  This worked for her.  She understood where we were going and what was going to happen.
Other examples of places that might work include:  Walking to the car, walking to the mailbox, walking to a favorite room in the house, walking to a person, walking to a play structure in your yard, etc…
Step 9:  Gradually increase the distance and time that she wears the mask.  For our family, we told our daughter that she'll wear the mask when she's "inside" or "in the store" but that we'll take the mask off when she's outside. 
Step 10:  Now that your little one is able to wear her mask for longer periods, it's important that she know when she's able to take her mask off.  Toddlers love being independent and want to decide when it's time to take the mask off.  What works really well here is using part of your routine that she already knows and anticipates.  For example, "You take your mask off when you're in the car seat" or "You take your  mask off when you take your shoes off" (when she gets home).  The most meaningful and best working cue will vary from child to child.  Be consistent with your cueing and remind her in case she tries to take her mask off early.
These are the basic guidelines that you can use to help your little one learn to wear a mask.  Which strategies work best and how long each step takes will vary from child to child and family to family.  
Take care and stay safe
REGISTER NOW for your 7-Day FREE All-Access Trial to the Help My Baby Learn mobile app and HelpMyBabyLearn.com!